← Back to portfolio
Myanmar: Ghosts of Revolutions Past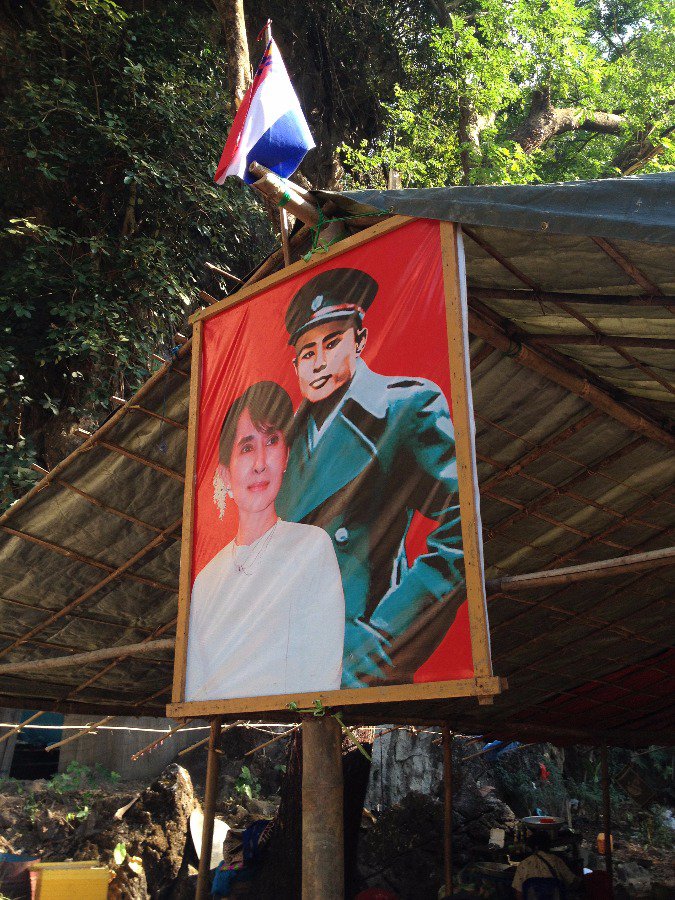 I visited Myanmar in December 2016; just two months after the Rohingya reportedly attacked a military outpost in Rakhine State in the East. I wasn't there to be anything more than a tourist, to follow a well trodden and entirely safe backpacker trail. Nonetheless I had some knowledge of what was happening in Rakhine – I had seen the horrific videos of Buddhist monks burning Rohingya alive while I knew something of Myanmar's troubled history and the National League for Democracy (NLD's) recent election victory that - after sustained pressure from Obama and the UN – the ruling military had finally allowed to stand and which had finally liberated its now defacto leader Aung San Suu Kyi from decades of on-off house arrest. 
My first taste of the identity conflict that seems to rage at the very core of modern Myanmar was at my hostel in Yangon where, tired, dirty and dragging a busted leg I learned two things: 1. Despite the US dollar being the accepted second currency in Myanmar, only absolutely pristine bills will be accepted, and 2. Don't call Myanmar Burma. "So you're telling me I can't use this $20 note anywhere in Burma?!" I squealed, wielding my slightly creased bill in the hotelier's face. "DON'T CALL IT THAT!!!!" I was screamed back at in return. Disarmed, defeated and tearful I apologised and retreated to my dorm bed.
A heavy, gloomy spectre seemed to hang loose around the old capital city. It seemed as if locals harboured a deep suspicion of foreigners – a stark contrast to India, where I had been not too long before and where I was seen largely as a family photo opportunity. Instead, the locals in Yangon stayed away and largely ignored me, occasionally throwing a sideways glance.

New old city
I had happened to arrive in the city during an architectural festival. From what I could tell it was an initiative by the NLD to revitalise the city's historic buildings – unlike old colonial capitals like Mumbai where former seats of English power have been repurposed and reused, in Yangon they are largely squalid and fading, with broken glass littering the courtyards along with piles of half burnt rubbish and fighting dogs. The old courthouse especially is flanked by booksellers peddling both numerous copies of Orwell's 'Burmese Days' (Orwell is know simply as the 'prophet' here) as well as obscure land surveys of remote districts dated 1934, 1942 etc. ransacked from the library.
Around the court house sit the buildings that once formed the administrative heart of colonial Burma: the municipal building, shipping office and a number of once exclusive hotels with elaborate wrought iron porte cochere's haunted by the ghosts of memsahibs in silk and chiffon – all now rotting green and russet in the humid air. During my visit these arches were filled with local musicians playing traditional Burmese music (in this context Burma is appropriate and preferred), dancers and puppeteers, while around the edge were billboards proudly displaying pictures of Aung San Suu Kyi – the humanitarian, the Nobel peace prize winner, the visionary – and her plans to finally unite the old, and the new, in Yangon – through its buildings.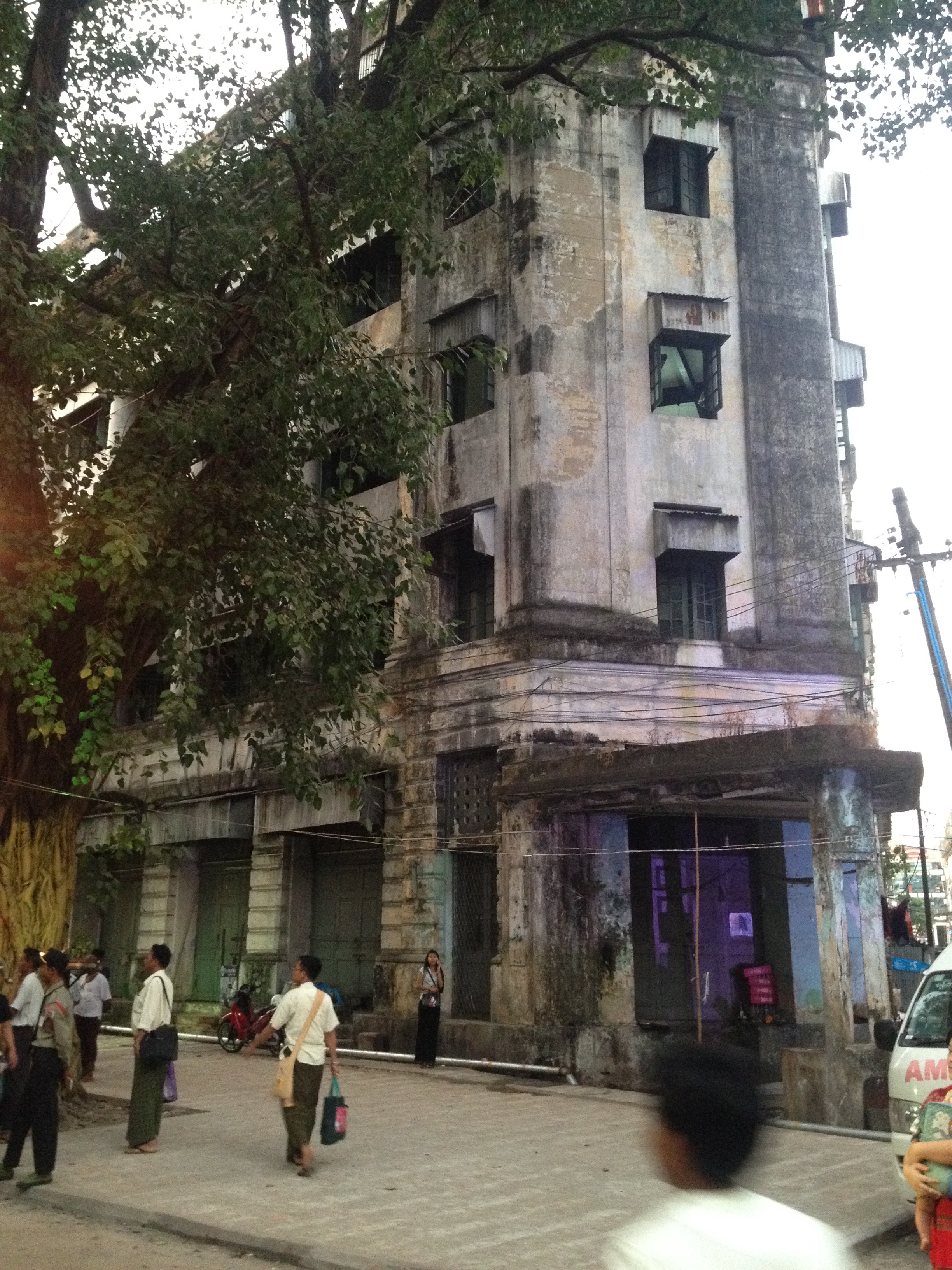 Not far from where the celebration was happening and the billboards were declaring the city's bright new future, I came across a statue of Aung San Suu Kyi's father, Aung San, who – I discovered – had died not long after brokering independence from the British. To grossly summarise a complex history, Aung San was assassinated due to his stubborn insistence on attempting to unite the country's many ethnic minorities under one, unified Burma, an effort that saw a number of minorities – including the Karen people – represented in parliament.
Like Ghandi, however, Aung San faced fierce opposition from within and, again like India's founding father, he paid the ultimate price for the liberation of his country from colonial power: his death, and its fracture. During the 1990's, the military junta that has ruled Myanmar with an iron fist for so many decades attempted to wipe out Aung San's memory as well as that of his persecuted daughter – who for more than 20 years was under house arrest. However they failed and the Burmese still cling to both as parents and as figures of both the past and future.
That night I settled into a bar where I watched, getting warmly drunk on $0.50 Mojitos, the local teenagers - squeezing in tight on a dirty wooden bench under old vinyl's stuck to the wall, semblances of modern art dotted around the room. The girls were trying to smoke cigarettes, I was reminded of myself aged 12 – long pulls and spluttering exhales as they struggled to understand why the hell anyone would do this.
A big white man in a flap jacket came in – he was of course a journalist, although now his time was spent largely teaching adults 'business'. My enduring memory of that conversation was that, in his opinion, the Burmese simply weren't as clever as the Indians and there was little hope for the country. As we talked I looked over at the flashing red digital ticker running across the stock exchange – the only thriving building in town.   
Long march to Inle
As I continued my indulgent journey through the country, basking in wondrous ancient ruin after another, sunset after glorious sunset – although continually impressed by the excellent roads (again a stark contrast to India) – I wasn't faced with Aung San Suu Kyi again until I embarked on a three-day trek from Kalaw to Inle Lake. It was headed by an energetic 19-year-old called Pew, who over the trek was a constant source of irritation due to his never ending supply of deeply unfunny practical jokes, but who was surprisingly open and honest with me about his hopes and fears for himself and his country.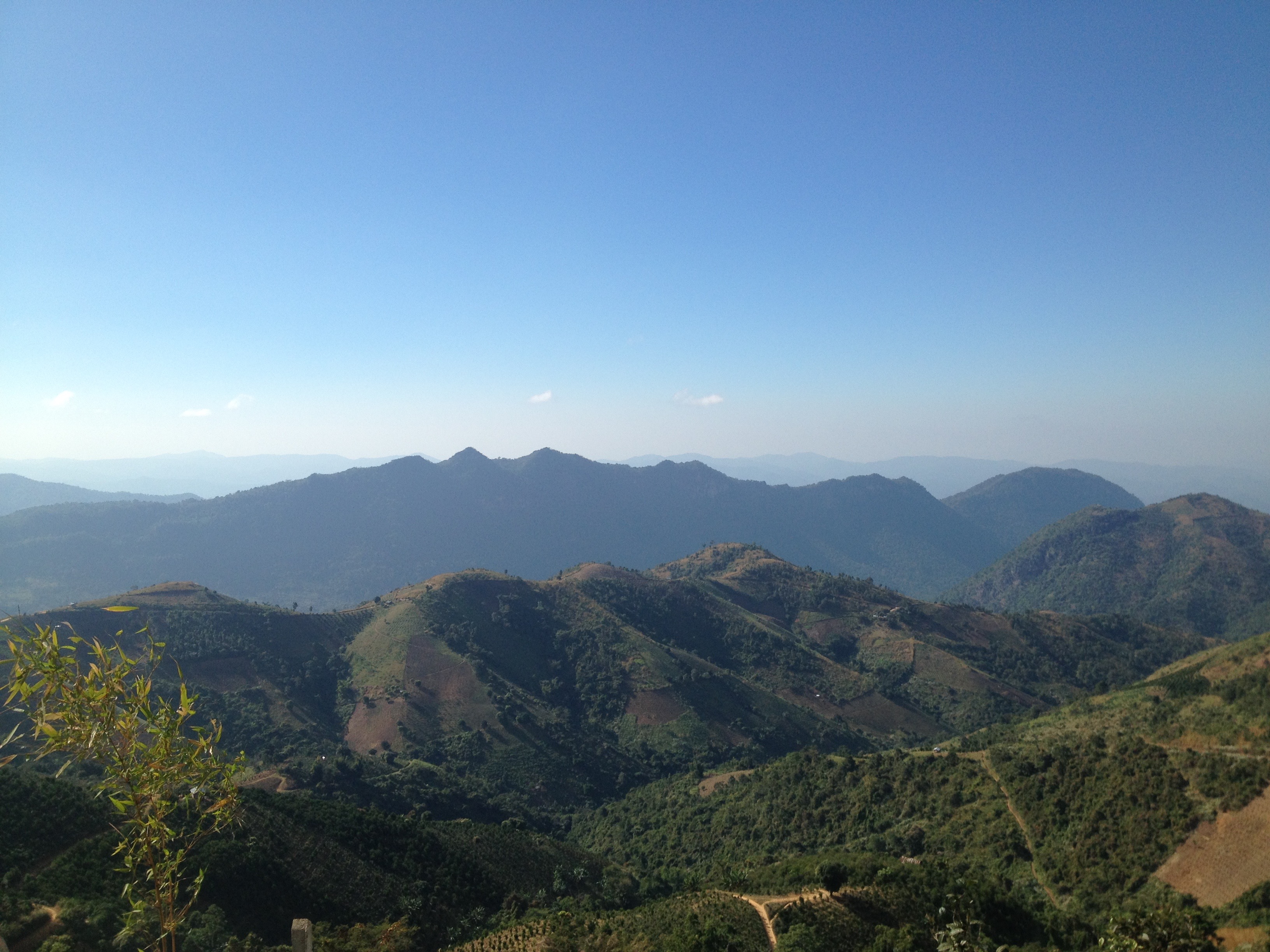 He was – and I hope is – the most curious and gifted teenager I have ever met. Like so many Burmese following the student protests of the 1980's that led to Aung San Suu Kyi's imprisonment, he has suffered a lack of schooling – an effective means of control being to ban education, especially university education. Yet despite this I think Pew has read absolutely every piece of paper that had fallen into his hands.
We discussed literature – Orwell of course – as well as global politics and – unbelievably - the minutiae of currency and gold markets. Although with hindsight perhaps it is unsurprising that in a country of dual currency and deep instability the daily fluctuations of the greenback and the troy ounce should be of serious concern to all.
The future of Myanmar was of course the main topic of conversation. Pew was a supporter of the NLD and was overjoyed to see them finally in power (although he was at pains to remind me that should anyone overhear what we were talking about he could be in big trouble – the military were still very much in control) and their plans to build more secondary schools, the construction of which we were apparently seeing on the trek, was particularly exciting.
We were shown around one site where a group of young children, including young monks, were learning English. On the white board they were encouraged to fill in the blanks in sentences including: 'The rich man is the master of this servant', and, 'Don't trust them. They are thieves.' On our way out of the village Pew pointed out the traditional clothes of the village women, who stopped and stood still for our viewing. As Pew pointed and talked about the submissive women my fellow trekkers and I shuffled our feet.
Terrorists
Pew seemed proud of his country – he often reminded us that Myanmar boasted a large number of ethnic groups, which is why – he told me – the term Burmese was still used to refer to the people, rather than a variation of the newer name. He was also very interested in what was holding Myanmar back economically – and that, as far as he was concerned – was the Chinese.
Thanks to the UN sanctions and trade embargoes levied against Myanmar, the only nation Myanmar has effectively been able to trade with was China, and China – in Pew's opinion – is bleeding the country dry. It pillages – he told me – Myanmar's many natural resources – bodging export balance sheets to make 12 tons seem like 6 – while the country generates most of northern China's energy while it suffers regular blackouts.

Pew harboured a deep hatred for the Chinese. However, this hatred paled in comparison to that for another people: the Rohingya. Knowing the little that I did about the situation in Rakhine, I often asked Pew about it and his response was always the same: "They are terrorists. They are illegal immigrants. Do you know what they did? They crept into villages at night and they killed women and children. Innocent people for no reason. They do not want to be a part of our country. They are illegal from Bangladesh". On this, I could not move him. He was sure that these people belonged to Bangladesh, were terrorists, and they were not to be trusted. They were not part of Myanmar, or even Burma.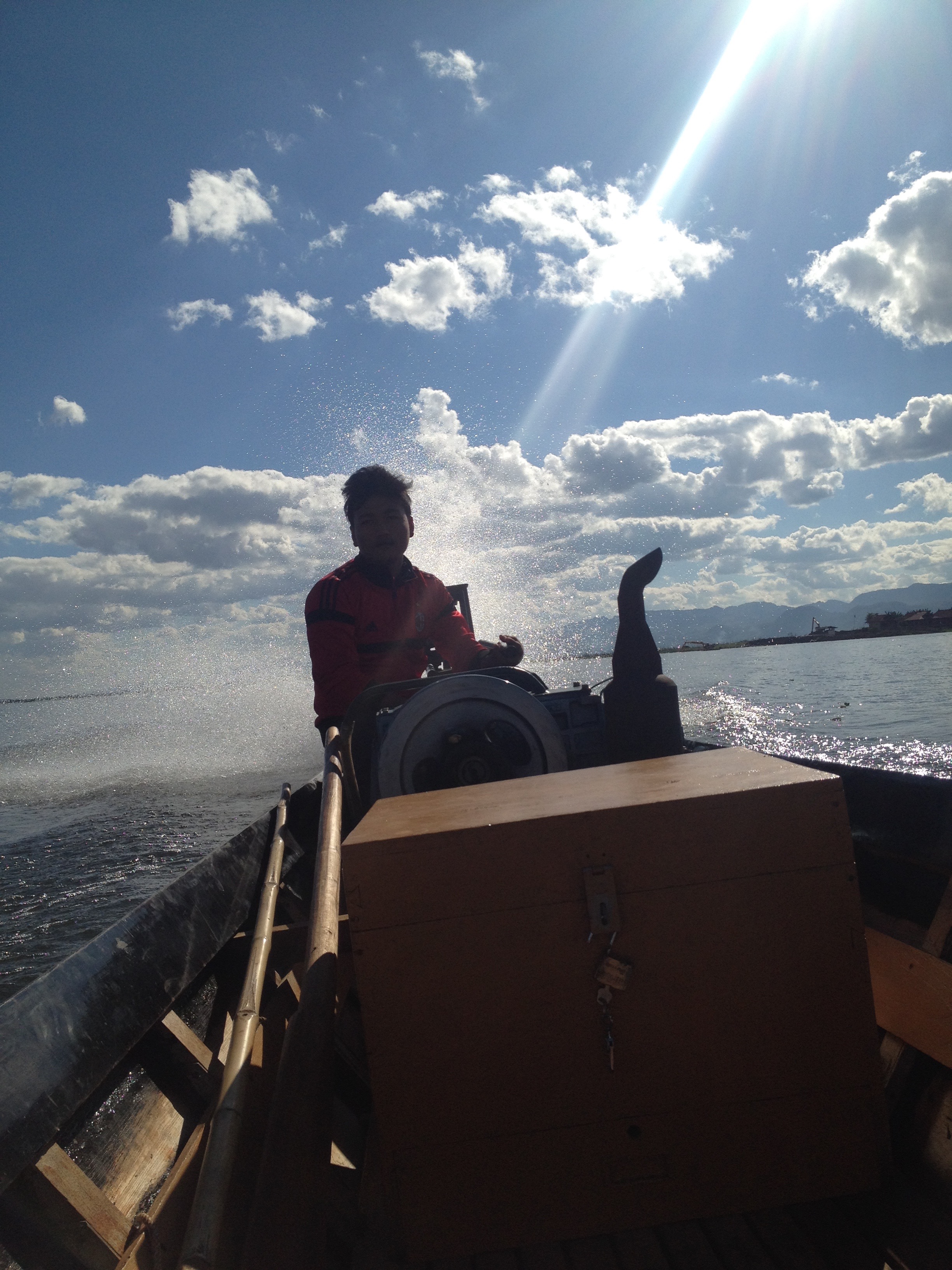 Careful Idols
Following the trek and a three day stay in Inle Lake, I visited the ancient caves of Hpa An in the west, where I saw – for the first time – an iconic, almost messianic portrait of Aung San and his daughter, hanging above a refreshment hut by a rudimentary harbour. He was standing proudly in the background in full military regalia, while she stood in front: defiant, hopeful and fearless. I pointed my camera to take a photograph, but I was shooed away – the sense of distrust palpable.
Returning to the town I spotted a few NLD administrative offices along the way, yet we also drove past a number of military checkpoints – indeed our small hostel faced an enormous barracks. Everywhere I felt a sense of unease, of distrust. I later learned that here – in the Kayin state – there was also fighting as the Karen people continue a half decade long battle for self determination once championed by Aung San.

I exited the next day via the land border with Thailand at Mae Sot. As I trudged along the bridge, aching for the bright lights and indulgent comforts of Chiang Mai, I wondered what the future had in store for Pew – whether modern Myanmar would live up to his hopes and dreams, or whether the hatred and fear he himself harboured espoused would be an insurmountable stumbling block.